Senior Director, Immersive Talent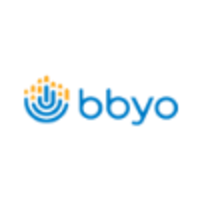 BBYO
People & HR, Sales & Business Development
Remote
Posted on Tuesday, May 16, 2023
Title: Senior Director, Immersive Talent
Location: Remote, US based, Eastern or Central Time Zones preferred but not required
Reports to: Vice President, Enrichment Strategy
WHO YOU ARE:
You are a masterful programmer and creative thinker – and an organized behind-the-scenes systems ninja who is charismatic, polished, and stays calm under pressure. You can be on the balcony and the dancefloor at the same time. You are a self-starter who enjoys working in collaboration with others and has experience overseeing successful teams and projects from visioning through execution.


POSITION SUMMARY:
As the Senior Director of Immersive Talent, you will lead the logistics in the recruitment and coordination of "Talent" (consultants, educators, speakers, and song leaders) who provide content that deepens Jewish impact across all immersive experiences. This position is part of the Enrichment team and is supervised by the Vice President of Enrichment Strategy.

WHAT YOU'LL GET TO DO AS OUR SENIOR DIRECTOR, IMMERSIVE TALENT:


Recruitment and management of talent
Lead recruitment of talent (speakers, educators, song leaders) for year-round experiences
Hire, onboard, and supervise a cohort of Jewish Education Consultants
Support immersive programs utilizing talent
In conjunction with convention or summer staff, facilitate the logistics of all Jewish speakers attending immersive experiences
Provide strategy and support for bringing in speakers across all BBYO events.
Partner with colleagues to match and assign consultants to regional conventions, International Convention, summer programs, and other opportunities.
Create and pilot new opportunities for BBYO to engage with Jewish Enrichment utilizing educators, talent, and consultants.
Consult BBYO professionals on educator and talent selection, contracting, and hosting.
Visit Regional conventions and summer programs to assess talent and assist with their programming needs
International Convention Leadership
Serve on IC Leadership Team

Recruit and contract educators, speakers, and song leaders
Liaison to external speakers
Supervise and manage logistics and operations for all Friday daytime experiences and Limmud
Fiscal and data management and reporting
Maintain a database and tracking system of all speakers, song leaders, and talent with program details, stipend history, feedback from BBYO clients and information on their assignments.
Responsible for monitoring budget and contracts for all talent
Sustain systems and design templates for educators, talent, and consultants including contracts, pay, hosting guidelines for regions, etc.
Partner with the CI team to create annual fiscal decisions and processes for disbursement of talent micro-grants.
Provide research and data for regular grant reports.
Role Requirements:

Minimum of 8 years of professional work experience
A Bachelor's Degree or higher
Incredible organization skills
Fluency in a variety of digital platforms such as Airtable preferred
Travel 1-2x per month
Knowledge of and ability to present Jewish content in a fun, meaningful way that speaks to issues and realities of today's teens
Effective writing and communication skills
Ability to work in a fast-paced, constantly changing environment with patience, open-mindedness, humor and focus
Comfort working behind-the-scenes to make others successful
Team-player
Familiarity with social networking tools and strategies as well as collaboration tools for distance education and program development
Familiarity with AZA/ BBG and BBYO's Immersive programs (International Convention, regional conventions, domestic summer and travel), preferred but not required
Unrestricted work authorization to work in the U.S. without holding visa or sponsorship now or in the future
To perform this job successfully, the individual must be able to perform each essential duty/function with or without reasonable accommodation in accordance with applicable law.
Salary: $90,000 - $105,000
We are committed to enhancing the Jewish experience, valuing diversity, providing equal opportunity and maintaining an environment free from discrimination or harassment. BBYO is an equal opportunity employer and is committed to the principle of equal employment opportunity by complying with all applicable laws which prohibit discrimination and harassment of any type in the workplace. Thus, BBYO strictly prohibits discrimination or harassment based on race, color, national origin, religion, age, sex, disability, genetic information, sexual orientation, protected veteran status or any other characteristic protected by law in all terms, conditions and privileges of employment, including without limitation, recruiting, hiring, assignment, compensation, promotion, training, wage and salary, benefits, discipline and termination.