Associate Vice President, Community Impact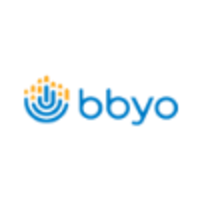 BBYO
Remote
Posted on Saturday, May 13, 2023
Associate Vice President, Community Impact
BBYO's mission is simple: More Jewish Teens, More Meaningful Jewish Experiences.
Throughout BBYO's 95-year history, the organization has brought leadership training, community service opportunities, Jewish education, a connection to Israel, and positive identity to thousands of Jewish youth in North America and beyond. While the organization's structure has grown and modernized significantly over the past decade, the basis is the same; BBYO provides fun and meaningful Jewish experiences for Jewish teens everywhere. Today we have nearly 23,000 North American members and 10,000 international members.
BBYO's professional team is united in their belief that they can enrich the life of a young person in a very profound way. This is accomplished by bringing Jewish teens together so that they can form powerful relationships with each other and with inspiring adult role models. By creating compelling Jewish environments and experiences, BBYO helps young Jews feel pride in who they are, in control of their own destiny and a part of something bigger than themselves.
Responsibilities include:
As the Associate Vice President, Community Impact, you will maximize performance and results in your portfolio by:
Developing senior direct reports and managing talent throughout the regional vertical.
Leading organization wide teams focused on building the movement (revenue, program quality, teen leadership, and participation)
Elevating the implementation of a strategic annual regional workplan
Identifying gaps in chapter and regional effectiveness and developing plans with Area Directors to close those gaps.
Driving financial self-sufficiency throughout the regional vertical.
Proactively managing and owning compliance by liaising with our Center for Adolescent Wellness and Finance team.
Driving growth in partnership with key stakeholders in local communities (Federations, program partners, donors, etc..)
Partnering closely with the SVP, Community Impact on strategy and planning to increase BBYO's capacity and reach in US based regions.
Ensuring regional leads are prioritizing and executing cross departmental goals
Building leadership opportunities for growing and retaining high performing staff.
Building a strong culture that aligns with BBYO Culture Credo.
Qualifications:
Strong management skills with experience building and leading remote teams
Excellent public speaking skills
Exceptional verbal, written and proofreading skills
Strong listening skills, ability to work with different constituents and to be flexible is required
Willingness to travel approximately 2-3x's month
Unrestricted authorization to work in the U.S. without holding a visa or sponsorship
To perform this job successfully, the individual must be able to perform each essential duty/function with or without reasonable accommodation in accordance with applicable law

Benefits of Working for BBYO:
Health, Dental, Vision, Short- & Long-Term Disability, and 2.5x Salary Life Insurance
Unlimited paid time off (PTO)
Up to 22 Paid Secular and Jewish Holidays
Flexible/Remote Work Environment
Generous 403b and Roth Retirement Plan with Vested Match
In addition, we provide excellent opportunities for professional development. We have a flexible work environment; we promote work life blend, and we provide generous family leave.
Salary: $120,000- $130,000
The position is full-time and has the flexibility to be based in any major U.S. metro area.
We are committed to enhancing the Jewish experience, valuing diversity, providing equal opportunity and maintaining an environment free from discrimination or harassment. BBYO is an equal opportunity employer and is committed to the principle of equal employment opportunity by complying with all applicable laws which prohibit discrimination and harassment of any type in the workplace. Thus, BBYO strictly prohibits discrimination or harassment based on race, color, national origin, religion, age, sex, disability, genetic information, sexual orientation, protected veteran status or any other characteristic protected by law in all terms, conditions and privileges of employment, including without limitation, recruiting, hiring, assignment, compensation, promotion, training, wage and salary, benefits, discipline and termination.